Green Gypsum Plaster
AAC Blocks
Magic Sponge
PVC Marbles & PVC Granites
Gypsum Plastering contractors
Prabha Specialties is a leading specialist interior & exterior sub-contractors within the Drywall & Interior Finishes Market in the Commercial, Public and Residential sectors. We put forth value engineered solutions with our strong professional Labour base.
We are the Leading Gypsum Wall plastering service providers and Contractors in Kerala. We do Gypsum plastering work with High Quality imported Gypsum Powder. We are the Sole suppliers and importers of natural gypsum powder in Kerala. We guarantee 100% quality and perfect finishing in our gypsum plastering contract work. We are the pioneers in gypsum plastering services all over Kerala.
Our team of professionals is well experienced in the efficient installation of all our Systems. We use modern tools and top quality gypsum in all our projects. Our services have been used to plaster walls of hotels, restaurants, commercial & residential establishments, malls and offices. Our gypsum wall plastering is highly reputed in the market for its smooth finishing, attractive look and moisture resistance. Moreover, our Gypsum Wall Plastering Services are offered to the clients at industrial leading charges.
Features:
Services Provided
Gypsum Plastering Contract Work
Gypsum Wall Plastering
Gypsum Ceiling services
Gypsum Partitions
Green Gypsum Plaster

For Direct Dry Wall Plastering
It is a premium quality plaster product from Prabha Specialities. Apart from its many exceptional attributes, it provides tremendous resistance against earthquakes due to its lightweight. Our eminent artifact ensures optimum utilization making your structure sturdy and durable.
Gypsum plaster is a highly processed form of Calcium Sulphate which indeed is highly durable and stable. Mineral gypsum is a natural and eco friendly product. The entire gypsum plaster are approved by CII-IGBC for consideration towards Green Building rating system (LEED) points Gypsum is perfect to be applied directly on almost all surfaces like bricks, blocks, concrete wall, granite, laterite, any rigid surface etc…….
TECHNICAL SPECIFICATIONS
Products / Parameters
Green Gypsum / White Gypsum
Compressive Strength per kg/cm2
70
Setting Time
15-30 mins.
Area of Application
Can be used directly on Bare brick walls, Shiporex blocks, Concrete, Masonary surface etc.
Coverage per 1000 kg/12mm
65
Packing kg
25
Surface Smoothness
Smooth Glazed Surface
Colour of Finished Surface
Super Milky White
Benefits of Green Gypsum Plaster:
Green Product
Natural
No Need of Cement, Sand, White Cement and Wall putty
No Cracks
Perfect Line and Level
No Need Water Curing
Longtime Durability
Light Weight Material
High Bonding Strength
Ready to Paint
GREEN GYPSUM PLASTER - ADVANTAGES
INDEFINITE LIFE

Gypsum Plaster contains no dangerous chlorides. It retains its composition for thousands of years as testified by the Cheops Pyramids.
INSULATION PROPERTIES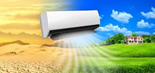 Gypsum Plasters have low conductivity and good thermal properties, ensuring energy and power saving. Tested in accordance to BS 874:1973. Appendix – C, Class "A" in accordance to DIN 4102. The thermal conductivity is 0.2 W/mk.
---
FLEXURAL TENSILE STRENGTH

Gypsum Plasters exhibit high tensile and flexural strength. They are less prone to cracking or debonding due to thermal, tensile and shearing movement of the background.
NONTOXIC AND ANTI-FUNGUS

Gypsum Plasters will not harbour insects or nourish mould growth or fungi. They pose no health hazards and are therefore frequently specified in hospitals and clinics. They are gentle on skin and offer a clean, healthy environment.
---
NO CURING REQUIRED

Gypsum Plasters require no water curing and should be permitted to dry out as quickly as possible. A definite advantage considering the weather conditions weather conditions in the Tropical Country like India.
FIRE INHIBITOR

Gypsum is non-combustible (inert), designated class 'O' in accordance to BS 476:4:1970, and contains a high content of crystal water. In the event of fire, will act as a barrier and will protect the block work, concrete and steel.
---
ACOUSTIC PROPERTIES

Gypsum (Calcium Sulphate) as a binder is used in the manufacture of acoustic tiles and plasters, contributory factor to the absorption of air-borne sounds.
BONDING PROPERTIES

Due to the nature and structure of Gypsum, it exhibits excellent bonding properties hence is applied in a single coat on R.C.C. Ceilings, Internal Bare-Brick walls, Hallow Concrete Blocks and Concrete Blocks.
---
RUST INHIBITOR

The Gypsum blended plaster is the perfect rust preventive agent and inhibits corrosion of electrical metal fittings, pipes etc. Metal lathings embedded in Gypsum Plaster will not corrode or rust. Serves durable life-long.
EASE OF APPLICATION

International Gypsum Plasters are pre-mixed and available in easy handle bags; only the addition of water is required. A single coat application suffices in most situations resulting in less wastage of time, labour and material. Semi-skilled masons can be taught how to apply and achieve excellent finishes within a few hours on site.
---
AESTHETICS

Gypsum Plasters provide a smooth interior finish for ceilings and walls, and is ideal background for good quality paints and wall paper finishes.
AESTHETICS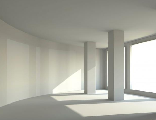 Gypsum plasters do not shrink (unlike cement) during the drying out and hardening process.
---
Cement vs. Gypsum – Comparison
Cement
Gypsum
Risks involved as sand and cement is to be mixed and processed at the site.
The plaster is a ready mix of gypsum. Hence saves effort and time in a big scale.
Sand is used as an aggregate.
As Exfoliated Vermiculite is the aggregate, it reduces heat. [Good thermal insulator].
Rough finish and water patch marks occur.
Smooth fine finish with no water patch marks.
Requires POP punning for surface finish after sand-cement plaster.
Smooth finish is obtained in single application itself.
Setting time: 60 – 160 mins
Setting time: 20 mins
Water cracks or shrinkage cracks may happen.
Provides crack free smooth surface, once set.
High labour cost and consumes time.
Time saving, hence less labour cost comparatively.
Structural changes can happen according to heat variation.
Gypsum is Heat resistant so no damage occurs.
Cemented Surface will crack apart and burst when hit by a hard object.
Gypsum Plaster will only form a dent when hit by a hard object and will be safe.
"Re work, fittings, refinishing" all are quite difficult in cement walls.
Gypsum walls are easily maintainable.
Cement surfaces are catalysts to fire.
Gypsum protects your walls from direct fire.
More electricity usage as AC is used inside cement walls.
Due to low thermal conductivity of gypsum, AC usage will be less and hence low electricity bills.
| | | | | | | | |
| --- | --- | --- | --- | --- | --- | --- | --- |
| | Direct Application | Line & Level | Smooth Finish | Time Saving | Quality Assurance | Water Curing | Shrinkage Cracks |
| Cement Plaster | | | | | | | |
| Gypsum | | | | | | Does not require | Do not appear |
AAC Blocks
We present our maiden product Aerated Autoclaved Concrete Blocks made with Internationally proven state of the art technology. Its appearance is light coloured, containing many micro cells that can be clearly seen when looked at closely.
It is inorganic and combustible and it is about one-fifth the density of normal concrete blocks and one-third density of conventional clay bricks. The moisture absorbed is less than 2 percentage. These AAC blocks are the right investment, justified for buildings intended to have a lifelong saving.
It can deliver big savings in heating and cooling costs through the life of a building and national savings on electricity due to its thermal mass performance and insulating properties. It is an energy-efficient product.
TECHINICAL SPECIFICATIONS
CHARACTERISTIC
VALUE / UNIT
Block thickness
75mm, 100mm, 150mm, 200mm
Face Size (L X H)
600 x 200
Dry Density
550 – 650 Kg/Cu M
Compressive strength
3min N/Sq. mm
Thermal conductivity
0.16 W/m deg. k
Sound Insulation (STC)
37-42 db.
Fire  Resistance (LB)
4 hours for 200 mm thick
Fire Resistance (NLB)
4 hours for 100 mm thick
Drying Shrinkage
0.02%
Water Absorption
< 2%>
Facets of AAC Blocks
Eco Friendly
Light Weight
Energy Efficient
Fire, Insect & Pet Resistant
Energy Saving due to high thermal insulation
Advantages of AAC Blocks
Light Weight: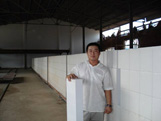 Our products are lightweight having density range from 550 Kg/m3 to 650 Kg/m3. Despite millions of tiny air-filled cells, products are strong and durable. The light weight advantage for the structure design leading to savings in supporting structures and foundation.
Earthquake Resistant: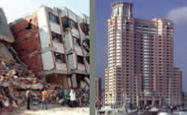 Our products are lighter than concrete and brick respectively. The lightness of the material increases resistance against earthquake as well as less chances of loss/damage to human lives.
---
Workability: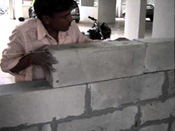 Our products are typically produced in rectangular shape for internal and partition walls or in shapes as may be required. The products are light weight, making them easy to place and secure using less skilled labour. The blocks can be sawed, drilled and shaped like wood using standard hand tools, regular screws & nails. It is simpler than brick or concrete.
Water absorption: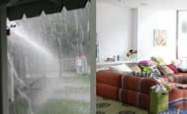 Our products being closed cellular structure have lower water absorption less than 2% as compared to other conventional walling materials.
---
Skim Coating: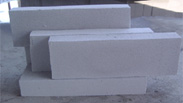 Our homes & buildings require no plaster and a usual water-repellent paint suffices. However, one desired can also apply plaster. Blocks have superb adhesive properties. It is also possible to apply wallpapers directly on the surface.
Compressive strength: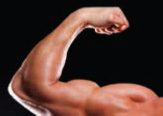 Our products are available in wide range of density from 550 Kg/m3 to 650 Kg/ m3 of average compressive of 2.0 to 7.0 N/mm2.
---
Excellent Acoustic Performance: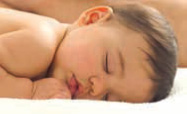 Our products have excellent acoustic performance and can be used as effective sound barrier and for acoustic solutions. Hence highly suitable for partition walls, floor screens / roofing and panel Material in auditoriums.
Insulation: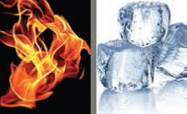 Our products provide superior thermal insulation properties compared to that of conventional brick and concrete. This property reduces the heating and cooling expenses.
---
Life Span:
Our products are weather proof, termite resistant, fire proof & are thus, durable for long life.
Savings in Material: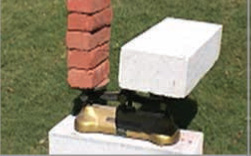 Our material being light in weight reduces dead weight of the filler walls in framed structures by more than 50% as compared to brick work resulting in substantial saving (10% - 15%) in the cost of structure. In addition, due to bigger and uniform shape of blocks, there are less number of joints in the masonry, thereby resulting in substantial saving in cement, sand and water which are costly as well as scarce.
---
Environment friendly: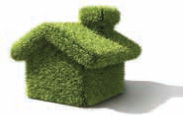 Our blocks replace Red bricks by saving fertile soil and vegetation and also by partial cement replacement with Fly Ash. "Green House Gases" created during cement manufacturing is dramatically reduced.
Magic Sponge
Cleaning, it is a difficult question that everyone has to face. The scram by children, the annoying stains in the kitchen and bathroom, the bothersome stains in your beloved car. To clean them by the traditional way is time-consuming, labor-consuming. Being busy with work, are you annoyed by such troublesome cleaning? Did you try to find an Eco-friendly, more effective cleaning products? Magic sponge is your best choice!
Melamine sponges, magic sponges, and similar products all have the same key ingredient: melamine foam. In the early 21st century it was discovered that melamine foam is an effective abrasive cleaner. The open-cell foam is micro-porous and its polymeric substance is very hard, so that when used for cleaning it works like extremely fine sandpaper, getting into tiny grooves and pits in the object being cleaned. On a larger scale the material feels soft. Because the reticulated foam bubbles interconnect, its structure is a 3D network of very hard strands, when compared to the array of separate bubbles in a material such as expanded polystyrene foam (for example, Styrofoam).
It is like countless super strong mini cleaners working together. Only with water, without any detergent, it can clean the surface as clean as new! No vestigial, absolutely safe!
Advantages:
Compared with traditional cleaning ways, magic eraser has the following advantages:
Innovation:
Revolutionary nano technology, absorb the stains automatically.
Health:
No toxic, no harmful to skin.
Eco-friendly:
It has 99.9%anti-bacterial effect, no detergent needed
Convenient:
The shapes can be cut at will. It is suit to any smooth surface.
Economize:
It is time-saving, labor-saving and water saving.
Notes:
1 ) With enough water, magic sponge can be used like the normal erasers. Don't use it dryly.
2 ) It should be used according one direction.
3 ) Do turn off the electricity when cleaning the equipment.
4 ) If it is used to clean dishes, do wash thoroughly under flowing water.
Since the absorb ability is so strong, in order to make your goods under better care, we suggest you be cautious to use for the following conditions:
1 ) The places which have too much grease, like the kitchen smoke chimney which haven't been washed for a long time. As the heavy greasy dirt can be absorbed on the magic sponge, it can't be cleaned easily, thus, we suggest not to use in such conditions. You can first remove the greasy stains with detergent, and use the magic sponge to do deep cleaning.
2 ) For the leather products, magic sponge has the best effect on genuine leather, and better on man-made leather. Since it has strong absorbability, please try on obscure place in case of losing color.
3 ) For screen of the electronics (computer, TV, camera). The magic sponge may remove the coating and affect its use. Please try to avoid scrubbing such screens.
PVC Marbles & PVC Granites
Marble Texture Surface Decorative Wall Panel
Fireproof, waterproof, light weight, good substitute of natural marble, MDF board, natural lumber, aluminum composite panel, etc. It's widely used on interior wall decoration, for example, Subway, Airport, Shopping Mall, Hotel, Hospital, Office, Kitchen, Toilet, etc.
100% without asbestos, formaldehyde, benzene and any other harmful substance, no radiation.
After special treatment, form marble texture, Wood grain texture, aluminum composite panel texture etc. decoration board.
Simulating natural Marble texture UV Flourocarbon Varnish on the surface.
Characteristics:
Effect of natural marble
Texture clear, color uniform, so it can avoid the chromatism of natural marble in decoration for large area.
It is glossy, wear-resistant, and easy clean; the hardness can reach 3H-6H.
The weight is only one fifth of the natural marble and price is one tenth of the natural marble.